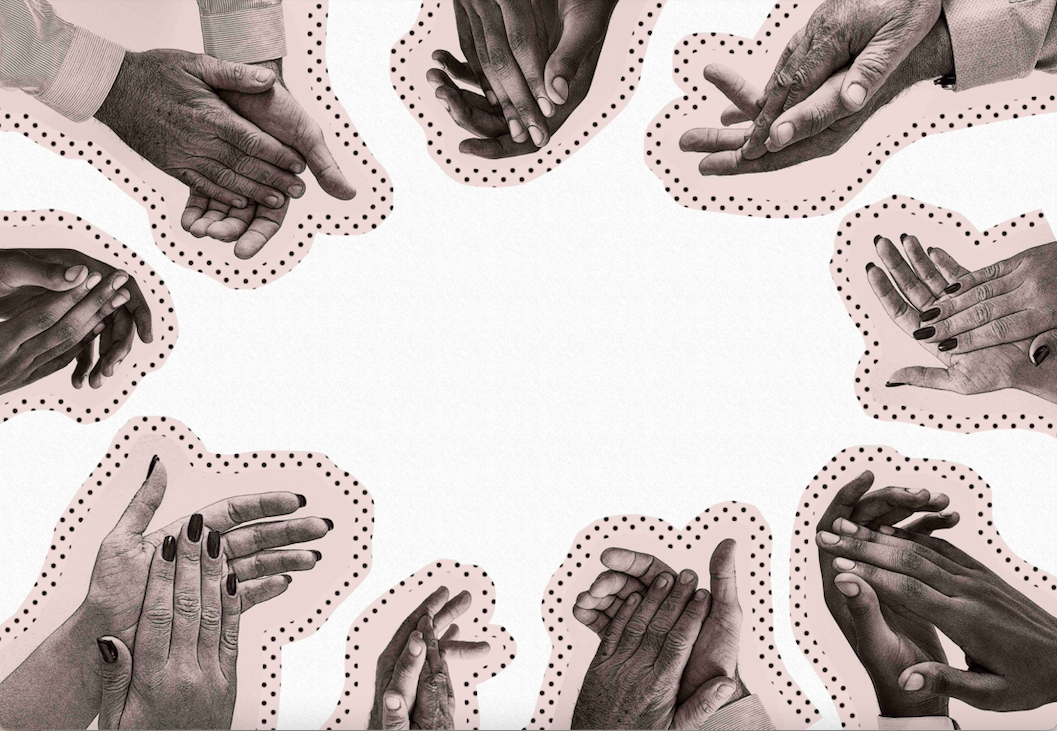 Beacon Awards 2022: Nominee Testimonials Now Open
Through the Beacon Awards program, Beauty Independent aims to amplify voices in the independent beauty community. That's why it's crucial that members of our community get involved in the selection of winners and why we're asking our community (Beauty Independent's amazing paid subscribers) to share testimonials on this year's Beacon Awards nominees. Please, give them some well-deserved love.
Brand supporters will be able to submit testimonials through Tuesday, August 16. To submit a testimonial, select the drop-down menu on a nominee's page to see the entire list of category nominees and select the brand you wish to share your thoughts about.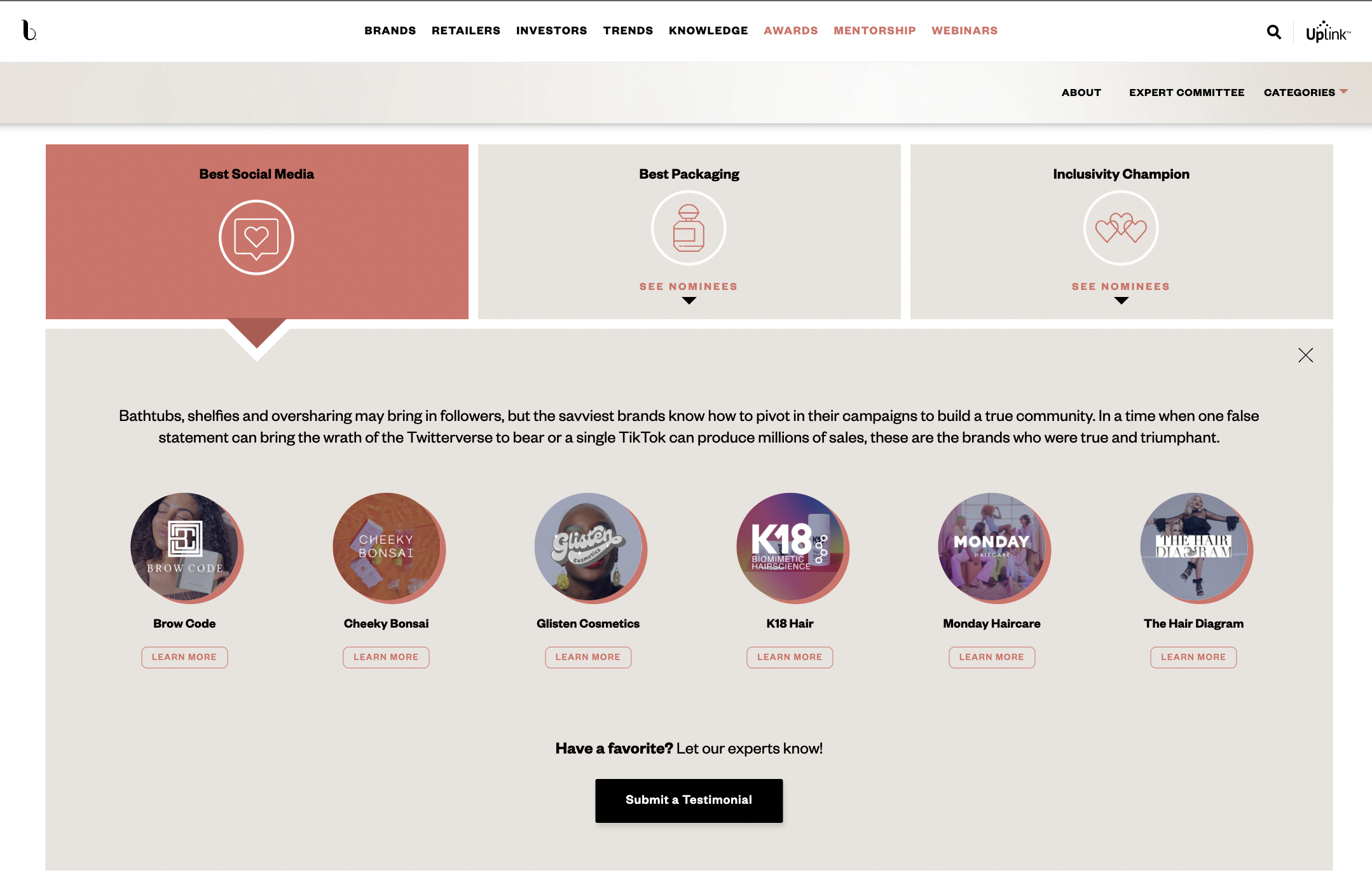 Incorporating the opinions of its subscriber community whose support is essential to the success of Beauty Independent is crucial, according to Beauty Independent's Executive Editor Jane Carlson. "Beacon Awards winners are chosen by a group of the foremost experts in beauty and wellness, but taking into account a diverse array of perspectives is really important," she says. "We decided to provide an opportunity for paid subscribers to submit testimonials and it has been so helpful to the expert evaluators in the past. These testimonials can really tip the scale." 
The Beacon Awards program, which is sponsored by Intrepid Investment Bankers this year, leverages the expertise of Beauty Independent's editorial team to determine the most relevant categories, and nominate the individuals, retailers and brands that represent the innovative and diverse field of independent beauty. The nominees are subsequently evaluated by one of five expert committees. Each expert committee is composed of five industry leaders who are assigned to their committees based on their knowledge and specific skill sets. No expert will be evaluating a category in which they have a pre-existing business relationship with any of the nominees. The community testimonials will be submitted to expert evaluator committees to help inform the winning selections.
"Beauty Independent has always shined a light on emerging indie brands and celebrated their growth and journey," says Thirteen Lune co-founder and Beacon expert evaluator Nyakio Grieco. She continues, "I have been honored to be featured in their digital pages throughout my beauty career and endlessly grateful for the support they give brand founders and entrepreneurs. I am thrilled to be an expert evaluator for the 2022 Beacon Awards and contribute to this incredible community of trailblazing talent!"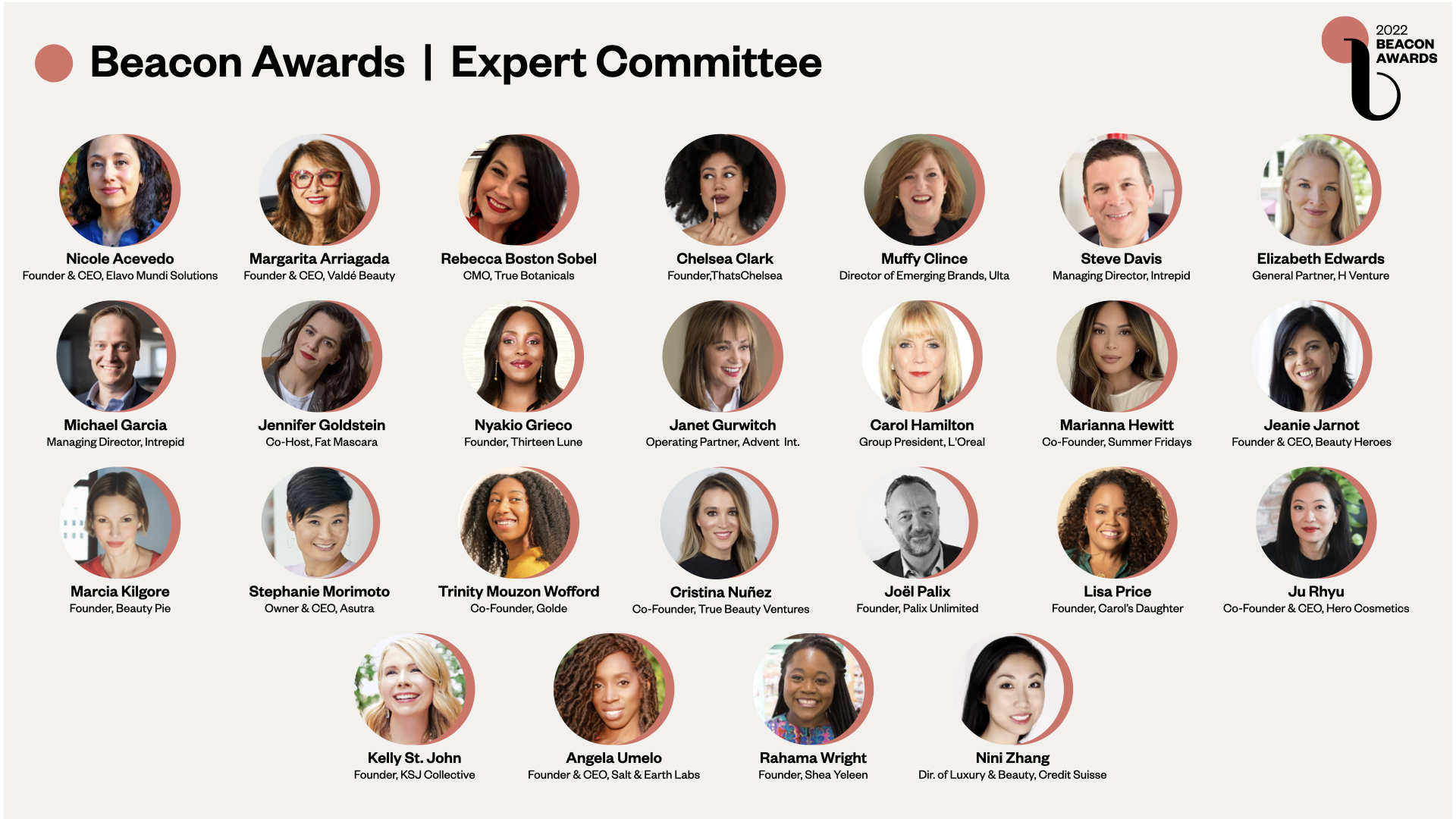 Over the next several weeks, the panel of 25 industry experts will have the difficult task of choosing the winners from the accomplished cohort of 113 nominees. Along with Grieco, Beauty Pie founder and 2020 Beacon Awards industry icon winner Marcia Kilgore, Hero Cosmetics co-founder Ju Rhyu, Summer Friday's co-founder and mega-influencer Marianna Hewitt, Golde co-founder Trinity Mouzon Wofford, True Botanicals CMO Rebecca Boston Sobel, Elavo Mundi Solutions Founder and CEO Nicole Acevedo, Founder and CEO of Salt and Earth Labs Angela Umelo, Asutra owner and CEO Stephanie Morimoto, and Intrepid's Michael Garcia and Steve Davis have recently been added to the evaluator list for this year's program. Returning expert evaluators include Carol's Daughter founder Lisa Price, investor Janet Gurwitch, Fat Mascara co-host Jennifer Goldstein, L'Oréal executive Carol Hamilton, beauty retail strategist Kelly St. John, and Ulta Beauty indie beauty specialist Muffy Clince.
The 2022 Beacon Awards nominees were unveiled in early August. There's a wide-ranging group of contenders, including brands, retailers and entrepreneurs like K18 Hair, Bomba Curls, Pound Cake, Deepica Mutyala, Onda Beauty, Lynda Berkowitz, and Swiftarc Ventures.
 The full list of 2022 Beacon Awards candidates is available here. The winners will be revealed during a live virtual event on Sept. 14 at 1pmEST.