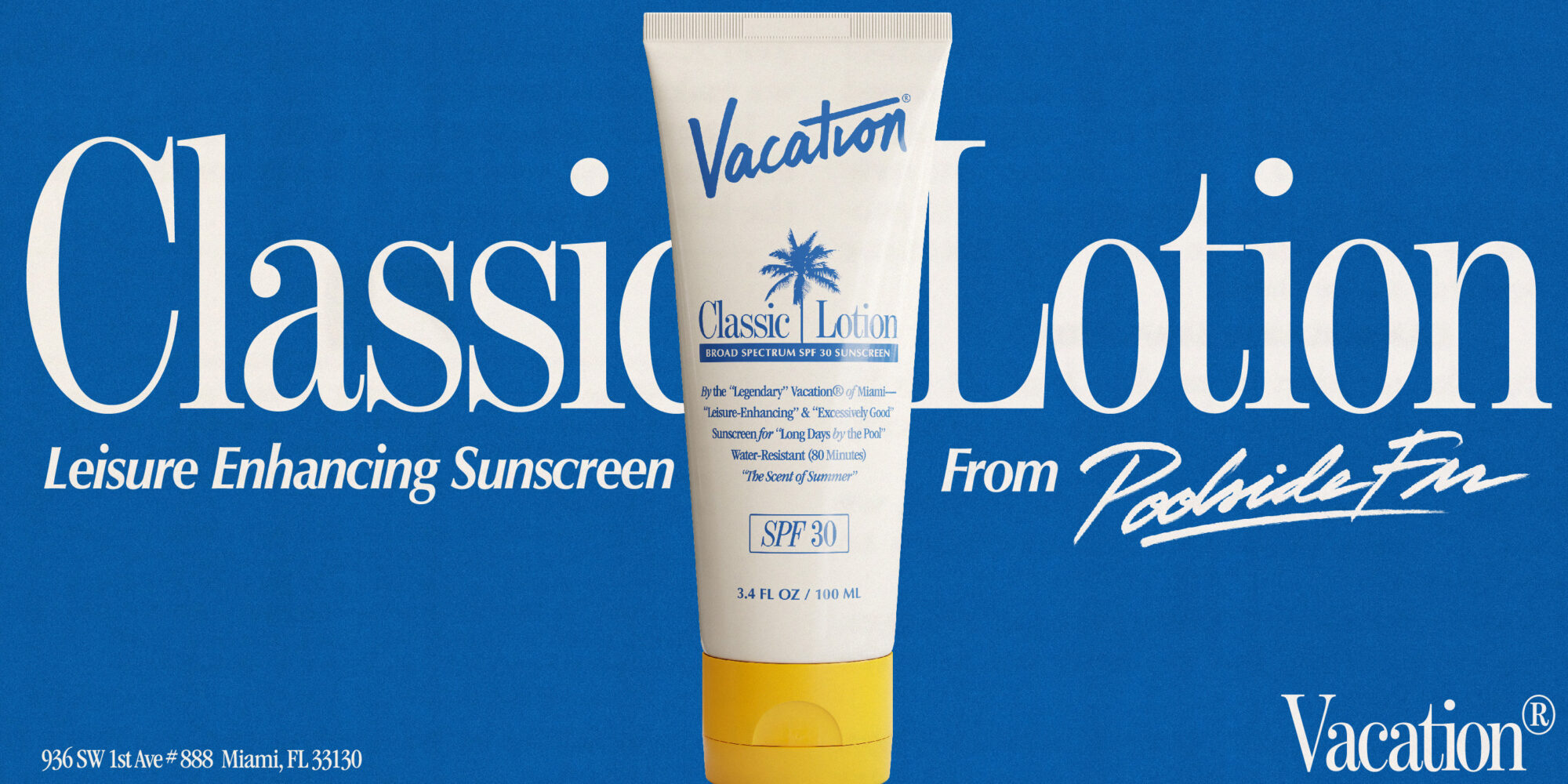 Fur, Vacation By Poolsuite And Carbon Theory On How They Cut Through The Noise With Award-Winning Campaigns
Breaking through the noise isn't always about screaming. It can be about making the right statements at the right times in the right places.
That was the lesson of last Wednesday's In Conversation webinar, during which Fur co-founder and CMO Lillian Tung, Carbon Theory founder and CEO Philip Taylor, and Vacation co-founder Marty Bell highlighted that there's no one-size-fits-all approach to a killer campaign, but there are general tenets to smart marketing: mapping out clear goals, identifying key performance metrics, executing efficiently across departments and properly measuring return on investment.
Fur, Vacation and Carbon Theory have launched very distinct campaigns. Skincare brand Carbon Theory tapped London women's club soccer team The Victoria Park Vixens to spread the word about its line of tea tree oil-infused cleansers; Vacation opted to generate excitement through user-generated content involving fake job titles (anyone up for being a hot tub temperature analyst?); and Fur conducted an out-of-home campaign focused on its trimmer tool featuring unretouched images. 
While those campaigns were successful, Tung acknowledges Fur's campaigns haven't always been spot-on. Initially, influenced by direct-to-consumer darlings, she assumed dumping dollars into social media advertising would be a slam dunk. In 2016, the year Fur launched, she allocated a budget to pour into digital ads and ran the campaigns herself. "It was crickets," recounted Tung. She explained, "How can we compete when people have never even heard of this or considered it? It's not the consumer's fault. It's just that they're getting inundated with so many messages." 
In an environment with so many messages, Tung, Taylor and Bell shared the strategies that have worked for their brands' winning ad campaigns and what they would have done differently if they could have a do-over.
Marty Bell, c0-founder Vacation 
Before Vacation launched in 2021, Bell had amassed an audience of nearly a million people between the Poolsuite app and website. He created the 1980's-inspired music site, originally named PoolsideFM in 2014, to stoke nostalgia. Along with PoolsideFM, he owned a financial technology company and sunglass brand. Two entrepreneurs approached him about the idea of creating a retro-themed sun care product range, and Vacation was born. 
Goals and execution: For its launch, the brand implemented a three-phase plan with the goal of getting as many PoolsideFM lovers to discover it, and capture phone numbers for its CRM [customer relationship management] system to implement SMS campaigns and build a community. The Vacation team purposely teased initiatives out over several months. The result was, when the brand's June launch arrived, a broad swath of people had already bought into it. To grab a faux title bestowed upon them by Vacation, consumers had to submit their phone number and email address. A "business card" was then sent to them via SMS with their faux title. 
Vacation also promoted Vacation by Vacation, a standalone fragrance with notes of sunscreen, lycra and pool water, to highlight how good its sunscreen smells and augment its nostalgic sensibilities. Bell divulged the product was a smash hit and a "huge" percentage of revenue came through fragrance sales last year. Finally, Vacation launched with a grand opening sale. Some 15,000 honorary employees were invited to shop 40 hours early and encouraged to invite their friends to shop. If they referred others, they could obtain a free product.
"We were just trying to cause as much hype with those business cards to get as much of the Poolsuite community into the Vacation network and then channel them into our socials," said Bell. "We're trying to build a sticky framework so that people maybe discover the PoolsuiteFM website, and then they discover Vacation and follow both the Instagrams or sign up to one of the email lists so there's always a channel that we can reach them on."
Key learnings: Emerging brands can find success when they lean heavily into their niche. "We had various discussions about is this too niche? And we always came back to no, this is only for our existing audience," said Bell. Vacation by Poolsuite's campaign led to the brand garnering in excess of $200,000 in sales with no ad spend.
Looking back, Bell said he would have spent more time developing the brand's website. "The way it was working was very shaky," he recalled. "We were running out of job roles all the time and having to come up with hundreds of new ones." Bell pondered whether the business cards could have been turned into NFTs. He said, "I don't know if we would have really done it, but I think that discussion would've been on the table because the gating of everything there would've potentially worked better."
Lillian Tung, co-founder and CMO of Fur
Tung left a position in the marketing department at Maybelline to launch grooming brand Fur in 2015. She felt the conversation around body hair had been too confined to hair removal and set out to create an inclusive brand for all body types, expressions and grooming needs. She received a vast array of responses to Fur's concept, from "tell me more" to "oh my god, you're crazy, and body hair is disgusting."
"To me as a marketer, I love these passionate responses," said Tung. "I would rather the strong, negative reaction over a tepid reaction any day. That strong negative reaction…they're talking about it and, if you can continue to get people to talk about you, there's something there."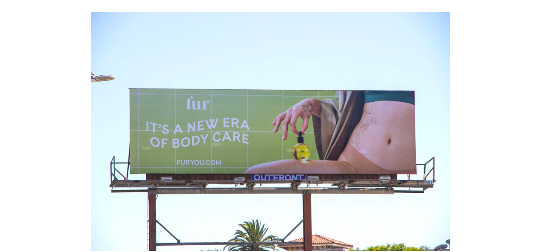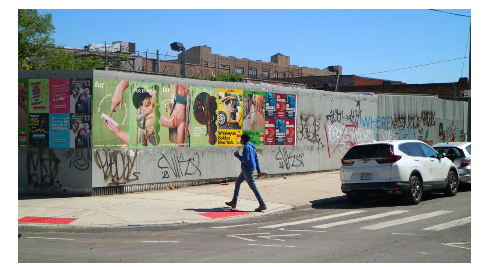 Execution and goals: Fur's out-of-home campaign revolved around generating brand awareness in the media and capturing organic digital content. On billboards in New York and Los Angeles, the visuals featured genderqueer models and pubic hair. "I wanted to make people feel proud and comfortable talking about body hair," said Tung.
Like Fur's brand concept, the campaign drew a mixed reaction. Some people cheered it on, and others hated it. People even defaced the ads. "They would actually go to supply stores, come back with construction paper to cover it or graffiti the words 'shave' onto them," said Tung. "That to us meant that there was enough sentiment out there that this was an effective campaign."
Fur immediately shared the defaced ads on its social media feeds. The brand instigated a discussion that explored the internalized misogyny women carry toward body hair and the shame they may feel about body hair. Fur worked with activists like Alok Vaid-Menon Bekah Martinez to amplify the message. 
Key learnings: "Can I tie X number of dollars to Y number spend here? No, but we were ready for that," said Tung. "We knew…it's not going to be one-to-one attribution." Soup to nuts, she estimated Fur spent nearly $100,000 over three months on billboards and posters. The campaign attracted about 22 million impressions, and Fur's site registered a 35% increase in traffic and a 41% jump in new users. A six-month supply of goods sold out three times within a three-month span. 
Tung advised nascent brands to concentrate on establishing legitimacy before embarking on a major campaign. Fur bolstered credibility at retail. The brand is at Nordstrom, Ulta Beauty, Macy's and Bloomingdale's, to name a few of its retailers. Shen Beauty was an especially impactful retailer for Fur to rev up press and retail momentum. Speaking of Shen Beauty founder Jessica Richards, Tung said, "We'll forever be grateful to her. Because of that credibility with brick-and-mortar and with press, you can then have a more legitimate stance in the digital space."
Philip Taylor, founder and CEO of Carbon Theory
At the outset of Carbon Theory, Taylor worked with Soapworks to create its commercial formula. He spent £200 to produce samples and approached Boots with them. Today, Carbon Theory is sold at more than 1200 Boots stores in the United Kingdom. "The actual magic happened when the kids that started to buy the product started to send these before-and-after transformations," said Taylor. Carbon Theory has racked up more than 15,000 five-star reviews.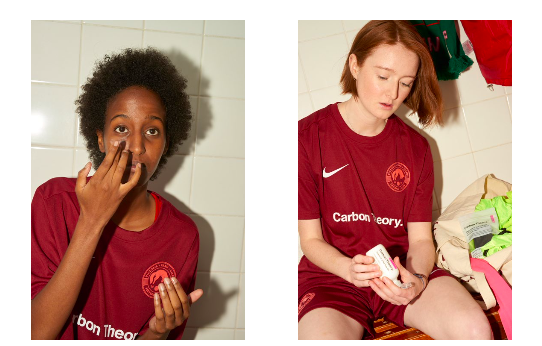 Execution and goals: The aim of Carbon Theory's campaign spotlighting members of The Victoria Park Vixens rather than rising TikTokers was to emphasize that it has performance-based personal care. Taylor pointed out that 90% of Carbon Theory's audience is women and nearly 30 million women play soccer around the world. "The Vixens are an East London team, just around the corner from us," he said. "It shows that not only are we supporting the women's game, we're also supporting the values of inclusivity, championing community and challenging stereotypes." 
Photographer Hazel Gaskin snapped portraits of Vixens players in uniform using Carbon Theory's products amid items found in their locker room. On top of the portraits, Carbon Theory produced a 32-second commercial featuring the team that was released on its social accounts and site, and was promoted by the team on its channels. Carbon Theory has partnered with the team on several campaigns to cultivate a long-term rapport with the women on it.
Key learnings: Taylor is a proponent of his brand zigging while other brands are zagging. "We knew that, working with the grassroots football team, it's never going to drive millions of pounds worth of sales, but what it will do is cut through that Instagram world where a lot of brands doing the same thing with influencers, all the same sort of pink campaigns," he said. "It did its job, and we still get so many compliments about that campaign."
The ultimate compliment? Ulta noticed the ads and picked up the brand, which is sold at 3,000 Walgreens stores, too. Taylor suggested the campaign could have gotten more traction had the brand had the resources to put the commercial on television. "Having that extra cash just to get that real visibility would've been wonderful," he admitted.
Taylor slotted the campaign visuals into the brand's fundraising deck, a move that's been praised by potential backers. He said, "When they look at the visuals, it just looks so different from what other people have done."