Growth Forecasts, Media Networks, Fast Delivery Services And Earnings: A Look At March's Big Retail News
Even as inflation and international conflict continue to assert upward pressure on consumer prices, the retail industry is forging ahead. Bolstered in the United States by the recent dip in coronavirus infections that has customers shopping in stores with renewed enthusiasm, retailers are busy speeding up deliveries, doubling down on social impact and enhancing logistics to distinguish themselves in an uncertain 2022. Below, we summarize recent retail news.
THE NRF'S FORECAST PREDICTS SOLID RETAIL GROWTH FOR 2022 WITH A CAVEAT
The retail industry recovered in a big way in 2021, according to a report from the retail trade association National Retail Federation (NRF). After pandemic precautions in 2020 shuttered many brick-and-mortar businesses nationwide and sent declining department stores into bankruptcy, retail sales grew 14% last year, marking a two-decade high as customers returned to reopened stores.
While 2022 sales growth isn't expected to be as robust, it's still expected to exceed pre-pandemic sales growth. The NRF forecasts retail sales in the U.S. will climb 6% to 8% this year to between $4.86 trillion and $4.95 trillion. This forecast covers non-store and online sales, which are specifically projected to lift 11% to 13% this year, but not auto, gasoline or restaurant sales.
Despite the optimistic outlook, the NRF cautions that rising inflation, persistent supply chain disruption and energy cost surges caused by the ongoing Russian invasion of Ukraine could cause business to sour. In February, inflation jumped to a 40-year high of 7.9%. It stood at 7.5% in January. Consumers are facing elevated prices for groceries, transportation, apparel and more. Unadjusted for inflation, monthly retail and food services sales slowed down in February after a blockbuster January. They only advanced .3% in February from the prior month, per the U.S. Census Bureau. Online and electronic purchase cutbacks offset higher gas prices.
As a top global energy provider, Russia's actions in the Ukraine have widespread economic consequences. Gas prices shot up 38% year-over-year, according to the U.S. Department of Labor. The consumer energy index spiked 3.5% in February. The month before, it increased .9%. Companies around the world have rallied in support of Ukraine. Google parent company Alphabet, Ikea, Amazon, Apple, Estée Lauder, Chanel and L'Oréal are either halting operations in Russia or suspending sales and shipments in the region.
THE NEWEST MASS/PRESTIGE RETAIL MASHUP
The partnership between mass-market behemoth Walmart and beauty specialty retailer Space NK was easily one of the buzziest beauty retail news stories of the past month. The joint BeautySpaceNK concept will bring 15 of Space NK's prestige and indie brand partners to 250 Walmart stores by the summer. The curated assortment, which features the brands By Terry, Lancer, Philip B, Foreo, Ameliorate and Patchology, went live on Walmart's website on March 15, encompasses 600 makeup, skincare, haircare, and bath and body stockkeeping units. New and exclusive brands and products are in the pipeline.
BeautySpaceNK is the latest in a series of tie-ins between mass-market and specialty retailers that have smashed traditional beauty retail bounders. Target's and Kohl's' highly publicized shop-in-shop partnerships with Ulta Beauty and Sephora, respectively, seem to show the mashup model has legs. Kohl's recently announced its intention to grow its Sephora partnership into a $2 billion business as it adds another 400 Sephora at Kohl's locations to its roster this year. In 2021, 200 locations opened.
Ulta announced that its Target partnership would increase by another 250 locations this year. While executives at the retailers generally have been tight-lipped about performance metrics, they report that the partnership has been "very strong" for building customer awareness. More than 1 million people have linked their Ultamate Rewards accounts with Target Circle loyalty accounts.
Walmart wants in on the high-low phenomenon to grab market share from its mass-market retail competitors as well as Amazon and prestige beauty specialty stores. But skepticism is rife in the beauty industry as to whether the Walmart-SpaceNK pairing will be viable. Beauty Independent covered reactions to the collaboration, including commentary from retail analysts and beauty brand consultants.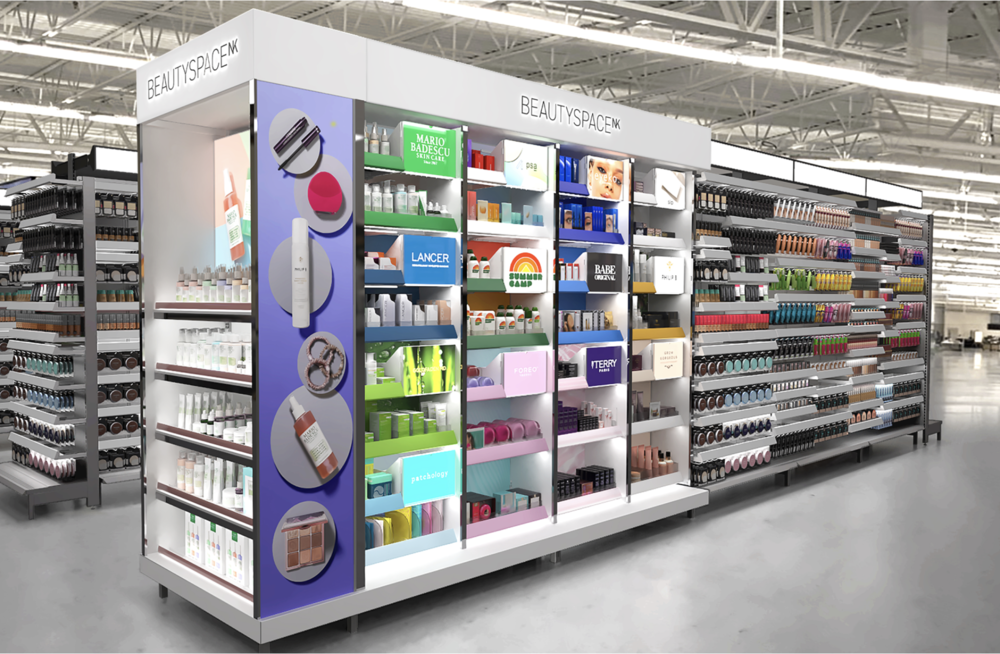 RETAILERS' BIG 2021 GAINS AND ADVERTISING PUSH
After a sluggish 2020 that saw store openings decelerate and net sales dive by a $1 billion, Ulta's financial 2022 outlook is bright. The largest beauty specialty retailer in the U.S. released its fourth-quarter and full-year results for fiscal 2021 showing a net sales increase of 40.3% for the year, which was boosted by the reopening of its entire brick-and-mortar fleet. Net profit skyrocketed by a record 461% to reach $985.8 million, up from $175.8 million for the previous year. Fourth-quarter net sales increased from $2.2 billion to $2.7 billion.
Ulta wants to keep its momentum rolling this year. CEO Dave Kimbell stated that it will fuel growth through six pillars: 1). Shaking up assortments by adding new brands like Fenty Beauty and Chanel; 2). Broadening omnichannel offerings and leveraging the power of the omnichannel business; 3). Meeting beauty consumers where they shop through livestreaming, social selling and deepened personalization; 4). Optimizing operational capabilities; 5). Cultivating a stellar work environment; and 6) Expanding environmental and social impact initiatives.
Target reported positive gains for the fourth quarter and full year of its fiscal year 2021. It's comparable sales increased 8.9% for the fourth quarter and 12.7% for the full year. The fourth quarter jump marks the 19th consecutive quarter of comp-sales growth for the mass-market chain, which saw returns for its pre-pandemic investments in brick-and-mortar stores and digital know-how.
Target's revenues have increased more than 35% since 2019 to $106 billion, and its stores remain engines for revenue and footfall. Comparable traffic grew by 12.3% for the full year, and Target stores fulfilled more than 95% of the retailer's fourth quarter sales, a figure that incorporates goods bought online and picked up at stores.
Comp-store and digital sales grew by $14 billion and $13 billion, respectively, since 2019, meaning total sales have grown by more than $27 billion. While Target's gross margin fell 1% due to higher supply chain costs, its operating margin grew between 6.5% and 6.8%, bolstered by the healthy sales growth.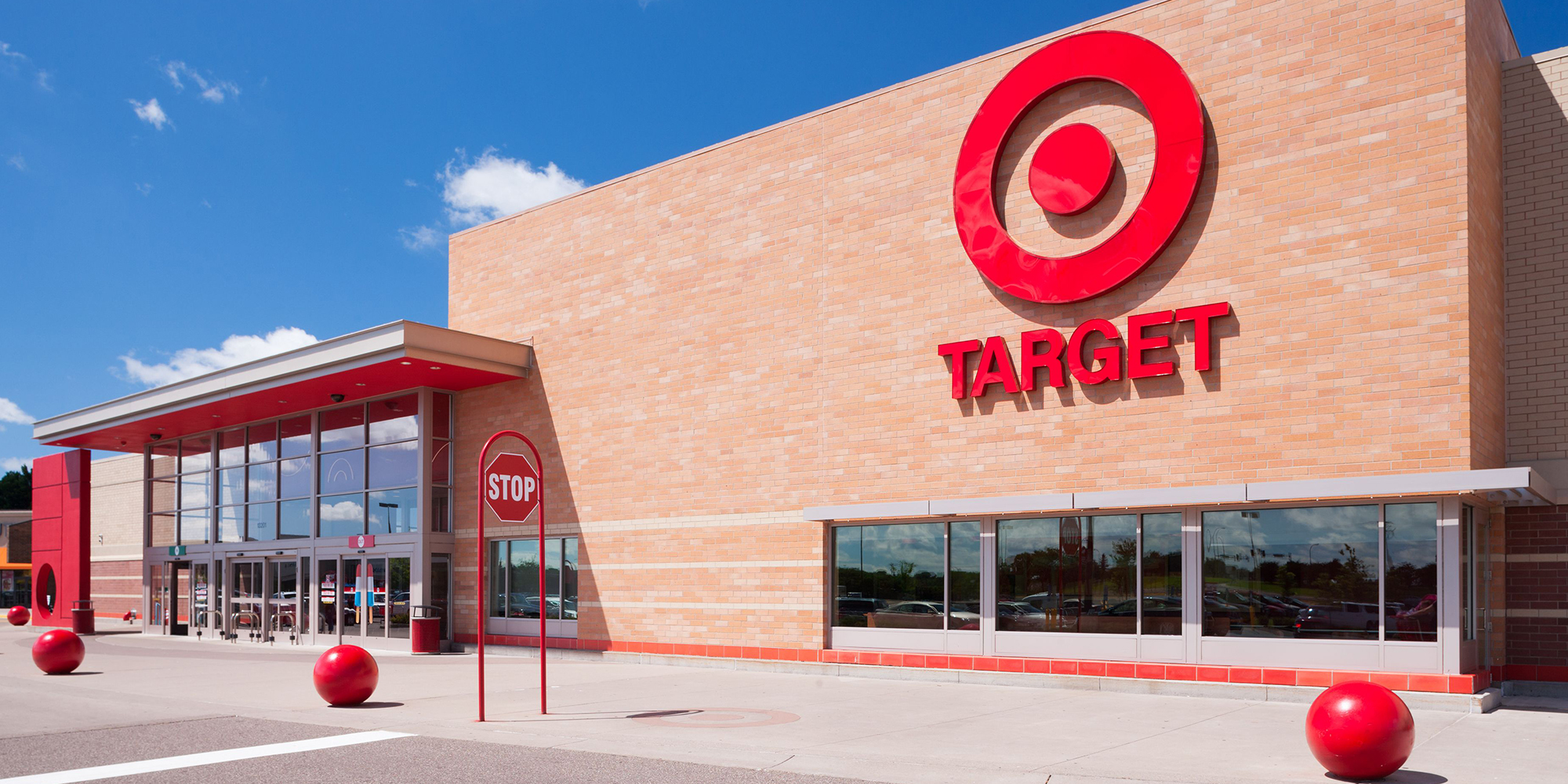 Nordstrom has bounced back from the depths of the pandemic. The over 100-year-old American department store company revealed it hit its fiscal 2021 targets. Along with home, designer and kids, beauty was one of the strongest performing categories. Fourth quarter 2021 net earnings for Nordstrom increased over 500% to $200 million thanks to loftier sales volume and gross margin. While net sales underperformed the fourth quarter of 2019 by 1%, they outperformed the fourth quarter of 2020 by 23%.
Digital sales represent a huge piece of the pie for Nordstrom. They were 44% of sales for the fourth quarter and 42% for the full year. Nordstrom's digital sales have benefited from earlier investments made in technology integration. In 2018, the department store company acquired two tech startups, BevyUp and MessageYes, in an effort to create a more modern and seamless shopping experience across its platform.
Nordstrom is getting into the $191 billion digital advertising business with the launch of a media network. After a successful pilot in the fourth quarter of last year that generated $40 million in advertising revenue, Nordstrom Media Network is set to scale in 2022 through expanded ad placements across Nordstrom's and Nordstrom Rack's websites and digital properties. The program will extend beyond Nordstrom's brand partners to non-native partners of interest.
Retail media is an increasingly attractive revenue stream for retailers. It enables them to harness the power of their first-party data to connect brands with consumers in  personalized ways, and sell covetable and high-margin advertising space to non-partner companies. Amazon, Walmart, Target, Kroger and Macy's have gotten into the game. Ulta is introducing its UB Media platform later this year.
TARGET'S, ULTA'S AND SEPHORA'S EFFORTS TO HASTEN DELIVERIES
Following a blockbuster 2021, Target plans to allocate $5 billion to optimizing operational capacities this year. Thirty additional stores will be added to its existing fleet of nearly 2,000 brick-and-mortar locations in the suburbs and city centers, while 200 existing stores will receive "top-to-bottom renovations." Same-day pickup and return services, which have accounted for nearly half of the mass retailer's $13 billion digital sales growth since 2019, are slated to be expanded as is Target's network of distribution centers.
Ulta Beauty is taking steps to improve its logistics as it propels store traffic. The retailer's customers will soon be able to return online purchases to their local Ulta store without boxes or labels thanks to a partnership with PayPal's Happy Returns Return Bar. The concept will be introduced at select locations before stretching across 1,300 Ulta stores.
While Ulta streamlines returns, specialty beauty retail rival Sephora is making moves to get its merchandise into the hands of its customers faster. Following a 2020 partnership with Instacart, the retailer recently struck a deal with Shipt that promises beauty deliveries within an hour. Sephora is the first beauty retailer to partner with the Target-owned online delivery rival to FreshDirect, Doordash, Postmates and Instacart.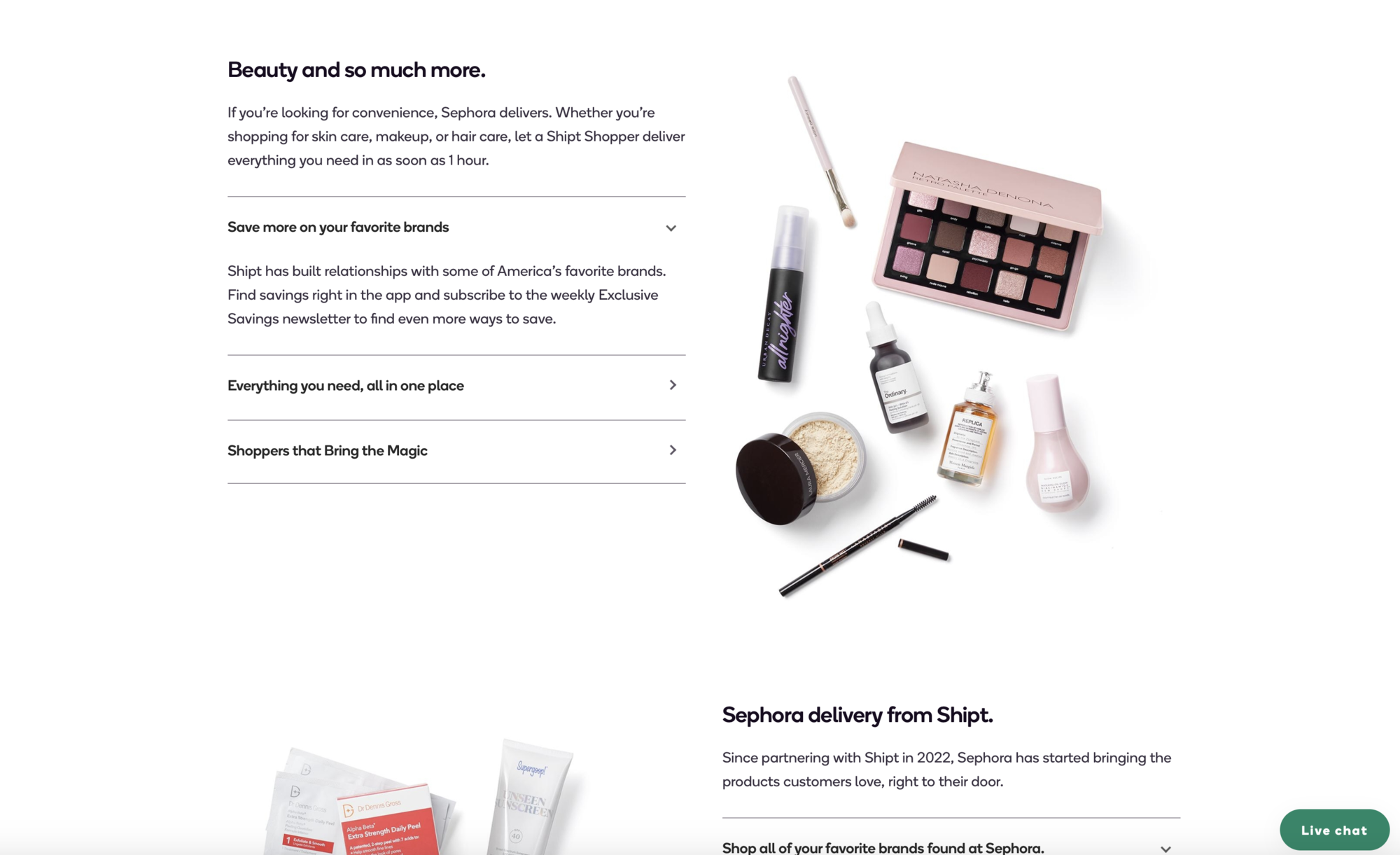 Instacart garnered headlines in March for cutting its valuation by nearly 40% as technology stocks that were once riding high on Wall Street during the height of the pandemic have taken a tumble. The grocery delivery service was valued at $39 billion last year after a $265 million raise, but the waning of the pandemic in the U.S. and customers' return to stores has dinged its business.
While Instacart still commands a hefty 52% of the grocery delivery market, its sales grew by a meager 5% in December 2021 compared to 210% in the same period a year earlier. Going forward, the company is turning its focus to growing its B2B business through the launch of Instacart Platform, a software suite that provides technology, fulfillment and advertisement services to grocery stores.
KOHL'S' IDENTITY SHIFT AMID TAKEOVER TALKS
On the heels of the news that it missed quarterly sales targets for the 2021 holiday season, Kohl's told investors in March that it intends to reinvent itself by pivoting from being a traditional department store to becoming a "focused lifestyle concept." The pivot will be achieved through store remodels, 100 new smaller stores in smaller markets to achieve over $500 million in projected sales, active and athleisure assortments, and omnichannel services, among other measures.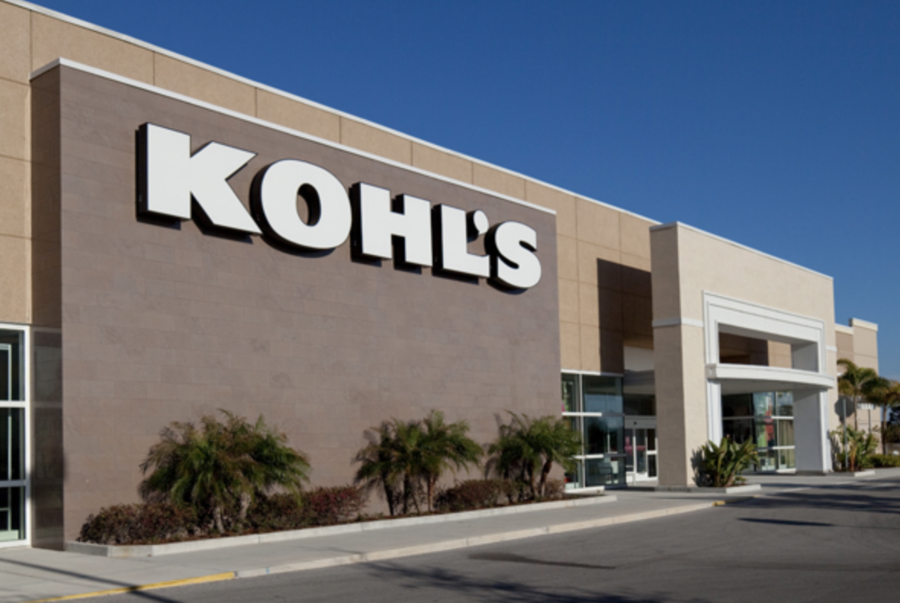 Kohl's has been under scrutiny for several months as it's battled with activist investors over the future of its management and their vision for the company. After rejecting two takeover bids in January that the beleaguered department store retailer deemed too low, it adopted a shareholder rights plan or "poison pill" to shield itself from a hostile takeover and buy it time to find more suitable bids. Goldman Sachs and PJT Partners were recently brought on board to help the process and have solicited bids from 20 potential buyers.
The Canadian department store company Hudson's Bay and private equity firm Sycamore Partners are reported to be seriously considering submitting takeover bids. It's unclear if their interest is the result of the Goldman Sachs' outreach. Investors are wary of the fate of the potential bids because Kohl's has historically overvalued its worth.
TARGET'S AND MACY'S' SUSTAINABILITY AND SOCIAL IMPACT COMMITMENTS
Target announced its latest sustainability initiative in March in the form of Target Zero, its answer to mounting concerns about plastic waste. The Target Zero assortment highlights hundreds of new and existing beauty, personal care and household products that have refillable, reusable or compostable packaging as well as packaging from recycled materials or made through processes that have reduced the use of plastic.
Burt's Bees, Pacifica, Grove Co. and Plus are part of Target Zero, which promises store-exclusive packaging innovations. Target Zero is the latest product of the larger Target Forward sustainability platform. That platform's goal is for Target's owned brands to be have packaging that's 100% recyclable, compostable or reusable by 2025.
Macy's has committed to spending $5 billion on social impact by 2025. The department store company unveiled a social responsibility platform, Mission Every One, in March that will focus on igniting positive change across three key pillars: people, communities and planet. Macy's proclaims it will bump up hourly pay for store employees, invest in underrepresented designers and brands, support scholarships for underrepresented youth in fashion and design, and incorporate more sustainable materials in its offerings.
ADDITIONAL NEWS
Sephora Deepens Its Commitment to CBD Beauty With New Endcaps [Beauty Independent]
Target Is Playing In The Sexual Wellness Category In A Much Bigger Way [Beauty Independent]
This Budding Salon Chain Wants To Be Drybar Of The Textured Hair Salon Business [Beauty Independent]
Gen Z-Led Rosen Skincare Launches Acne Products at Gen Z's Favorite Retailer Ulta [Beauty Independent]
As Beauty PR Veer Closer to Advertising, PR Pro Dianna Vavra Opens A Store As A Genuine Stage For Beauty Brands And Vintage Pieces [Beauty Independent]