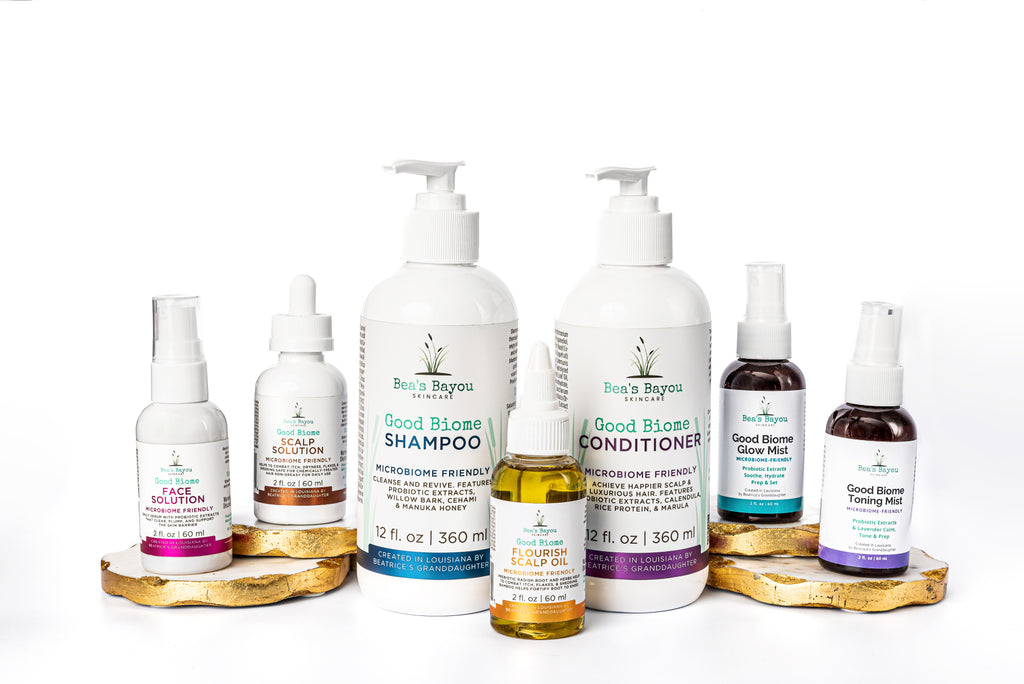 Bea's Bayou, Winner Of Aveeno's $100K Pitch Competition, Wants To Spread Awareness About Its Microbiome-Friendly Products
Arielle Brown has suffered from seborrheic dermatitis, which manifested in an itchy, inflamed scalp and hairline, since around puberty.
The dermatologists she visited into her twenties all prescribed the same thing: A medicated shampoo and steroid cream, and sent her on her way. "I wasn't really given any education about what was happening or what it is," she recalls. "I really didn't know enough and the people I was going to to guide me didn't seem to think it was a big deal. So I was like, okay, I guess I just have to live with this."
When the pandemic happened, living with it became unbearable. The condition worsened due to the stress she was undergoing as a social worker, so she began DIY'ing her own solutions. The concoction she landed on combined probiotics and herbal ingredients and, initially, came in a cream form. "It smelled like pizza and it was a little heavy," Brown recounts. "I didn't want something that would weigh the hair down so I ended up changing from a cream to a liquid. Something that you could spray and use on the go and would be more inclusive."
That initial idea turned into Bea's Bayou's bestselling Good Biome Scalp Solution. Other products from the brand include the Prebiotic Scalp Oil, Clarifying Shampoo, Repairing Conditioner, Probiotic Face Solution, Glow Setting Mist and Toning Mist. Prices range from $22 to $34. Brown initially launched the products on Etsy in August 2020 and invested about $2,000 of her own money to do so. "I just started with 40 bottles and printed my packaging labels at home in my guest room and just was like, okay, let me see how this goes."
Slowly but surely, the concept took off. When Brown launched her own Shopify website, she was able to recruit her Etsy regulars to shop her products on the new brand website. "I said, hey, I'm starting a website and I would love for you all to go over there because I'll have loyalty points and I'll have more promotions," she recounts. "I knew that was an opportunity to build my customer list and start gathering better data from Google Analytics, like, where are they coming from? How much are they shopping?" She was also able to build an email list for marketing. Etsy currently accounts for about 4% of Bea's Bayou's business.
Accelerator programs like Stitchcrew Inclusive Beauty Accelerator, Digitalundivided Breakthrough NOLA Accelerator with Chase Bank and IDEA Institute Accelerator introduced Brown to the different funding options available and helped her take Bea's Bayou to the next level. "That opened my eyes to the possibilities," she says. She began applying to every grant in sight and explored funding opportunities through PayPal and Shopify. "But it was always smaller amounts at a time," she says.
Her biggest cash infusion yet came last month from winning Aveeno's 2022 skin health accelerator startup pitch competition. She collected $100,000. The program is in partnership with Essence. Dr. Anne Beale, the founder of AbsoluteJoi, was the runner-up. "50% of people have dandruff, but 90% of Black Americans have dandruff so that made me say, okay, Essence will understand that this is a message that I need to give to this community," says Brown. "And then I also have the Aveeno side where they're gonna understand how unique this product is because it's not only microbiome friendly, but it's inclusive and it focuses on scalp care."
Brown says sharing statistics about how many people are affected by an itchy scalp and highlighting the growing market helped her pitch stand out. "The dandruff shampoo market by itself is $12 billion and the probiotic cosmetic market is growing 7% roughly every year, too, and I wanted them to know, even though it's a new space, it's growing and I wanna be a part of that and not only represent my community of color but represent women and my generation." Sharing her personal journey dealing with seborrheic dermatitis helped build a connection with the judges as well.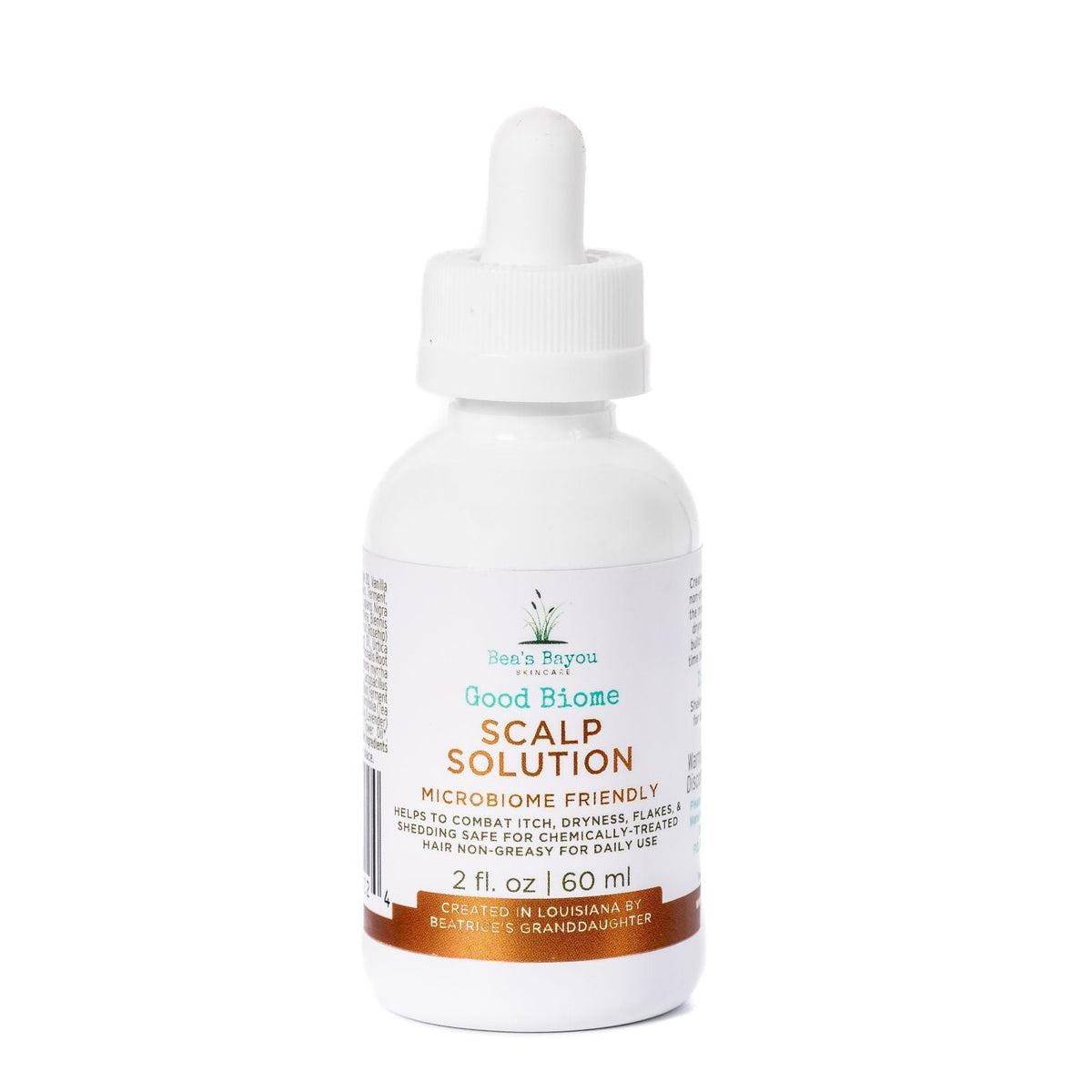 The grant money will go toward launching new products and applying for certification from MyMicrobiome. Brown is working toward making Bea's Bayou retail ready as well by updating the packaging and getting a 3PL partner. She has her eyes set on Ulta, Sally Beauty and CVS, "where people are really looking for products that are attainable, affordable but effective in what they do," she says.
Boosting brand awareness is also on the docket. Brown hopes to recruit diverse influencers to help spread the brand's messaging. When Bea's Bayou first started, she would go on YouTube, search for videos with the terms dermatitis, eczema, or itchy skin, and scour the comments. She shares, "A lot of times, people would share how frustrated they were that they can't find certain things and I would just comment back, hey, I'm the owner of Bea's Bayou skincare and I would love for you to check out our website." Her goal was to respond to 10 people a day but would often go up to 50. She sometimes still finds herself in the YouTube comments today but mostly relies on social media ads, blogs, and SMS marketing.
Brown regularly pops up on Bea's Bayou's social feeds and notes that educational content tends to resonate the most with her customers. "I usually just show them the ingredient or show myself mixing the product or share anything about the statistics or what a microbiome is and what it does," she says. "I think that brings more value to them than just trying to sell them something."