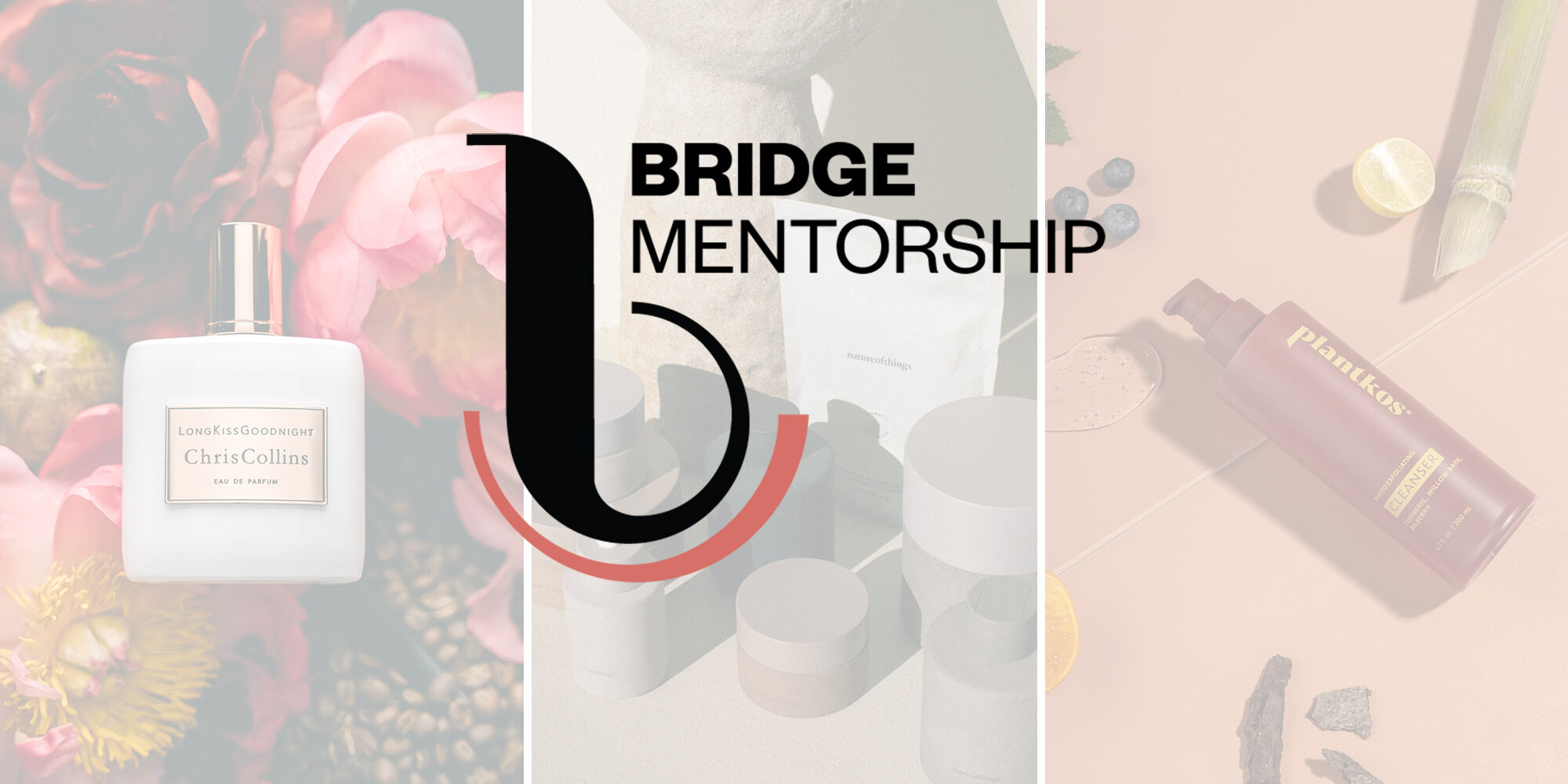 "Prove That You've Won Somewhere": The Bridge Mentorship Program Is Guiding Brands To Score Funds In A Shaky Market
In today's uncertain market, investors are looking for brands that remove some of the uncertainty. 
"The most important thing when you're talking to investors, especially when you're a small brand, is to prove that you've won somewhere, that you have traction, that your sights are on a specific goal and that you met that goal, crushed it and moved on to the next," said Cristina Nuñez, co-founder and general partner of True Beauty Ventures, during a Beauty Independent In Conversation webinar on Wednesday last week recapping the Bridge Mentorship's second cohort.
TBV, the beauty-focused investment firm with Maude, K18, Crown Affair, Aquis and Feals in its portfolio, has partnered with Beauty Independent on Bridge Mentorship, a six-month professional development program designed to ready the entrepreneurs behind emerging beauty and wellness brands for fundraising. To be eligible for the program, applicants must lead brands based in the United States that have been around for at least six months and are generating annual sales of $250,000 or above. Applications for the program's third cohort open today and close Dec. 7. The three brands selected for the cohort will be revealed in January.
The entrepreneurs who participated in the second cohort of the program—World of Chris Collins founder Chris Collins, Nature Of Things co-founders Jamie Leilani Pelayo and JP Collett, and Plantkos co-founders Sejal and Ketul Patel—just wrapped up the six-month curriculum and joined Nuñez along with Rich Gersten, co-founder and managing partner of TBV, for the In Conversation webinar. 
"It's always founder first, brand second. We like to develop partnerships with the founders," said Gersten. "But a brand that is beautifully positioned with 'shelfie' quality is really important to us as well when choosing the brand cohort. Ultimately, that's what draws the consumer in at the point of sale."
During the Bridge Mentorship program, TBV puts each brand through a diagnostic process that's similar to the due diligence process brands go through when pursuing funding. The diagnostic process explores key functional areas, including positioning, financial planning, distribution and scalability, to identify areas that require attention. Grounded in the results of the diagnostic process, TBV provides action plans for the brands to establish future goals and measure their progress. 
The program's first cohort of entrepreneurs—Youthforia founder Fiona Co Chain, Nopalera founder Sandra Velasquez and Nette founder Carol Han Pyle—have already achieved significant milestones since their participation in it during the first half of this year. For example, Youthforia recently launched at Ulta Beauty, and Nopalera raised $2.7 million in seed funding. "When Sandra started with us in the program, she was not funding ready," said Gersten. "So, it's quite an accomplishment to see her secure that investment."
Below, we delve into the second cohort's experience in the program.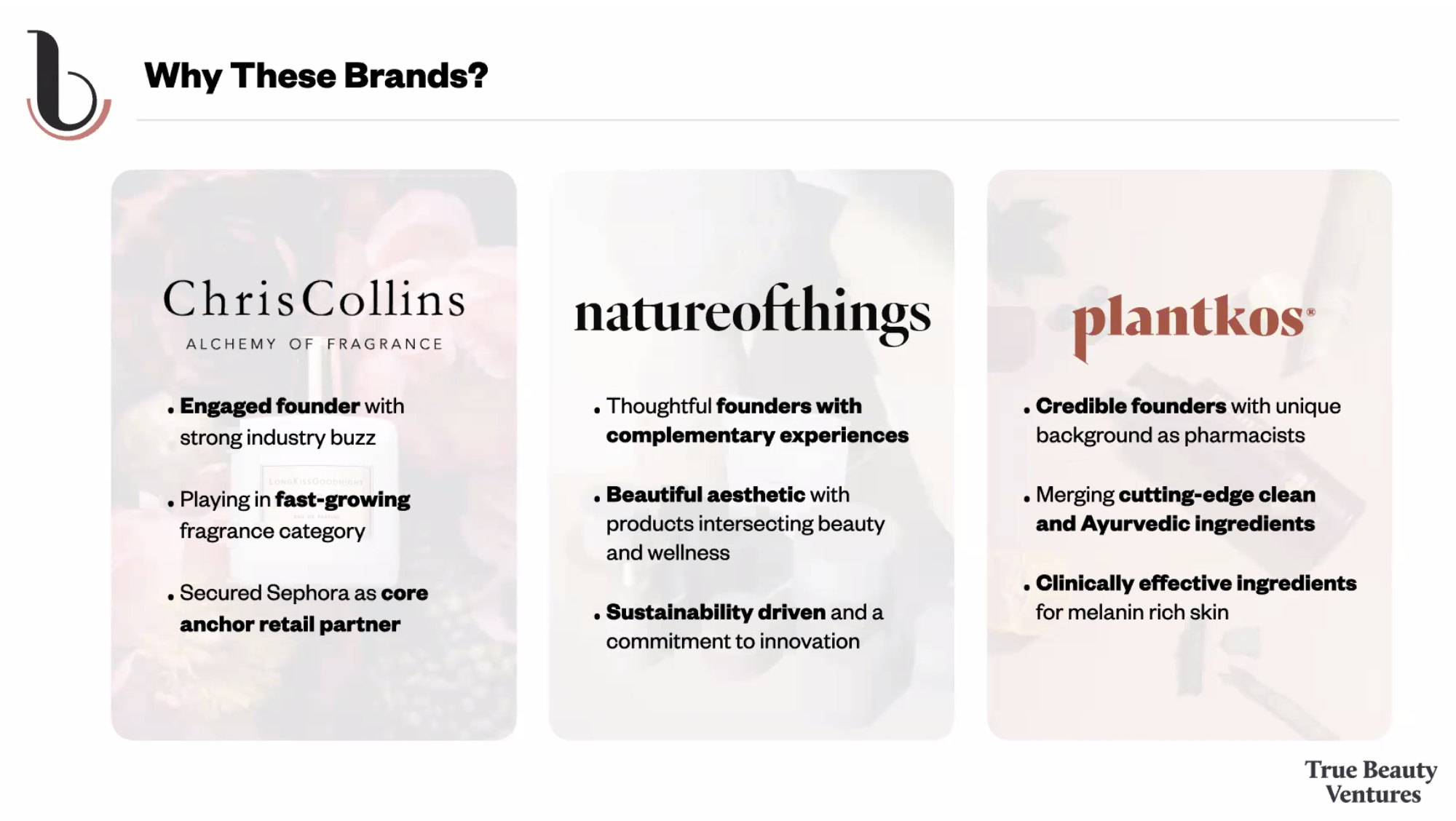 WORLD OF CHRIS COLLINS
Year Launched: 2017

Category: Fragrance

Positioning: Luxury fragrance line weaving themes of love, romance and desire into sensual stories. Each story is authentic to the founder's life, combining his childhood 

memories and current life experiences.

Price Range: $50 – $225

Hero Product: African Rooibos & Harlem Nights

Current Distribution: Bergdorf Goodman, Neiman Marcus, Nordstrom, Saks Fifth Avenue, Sephora and more.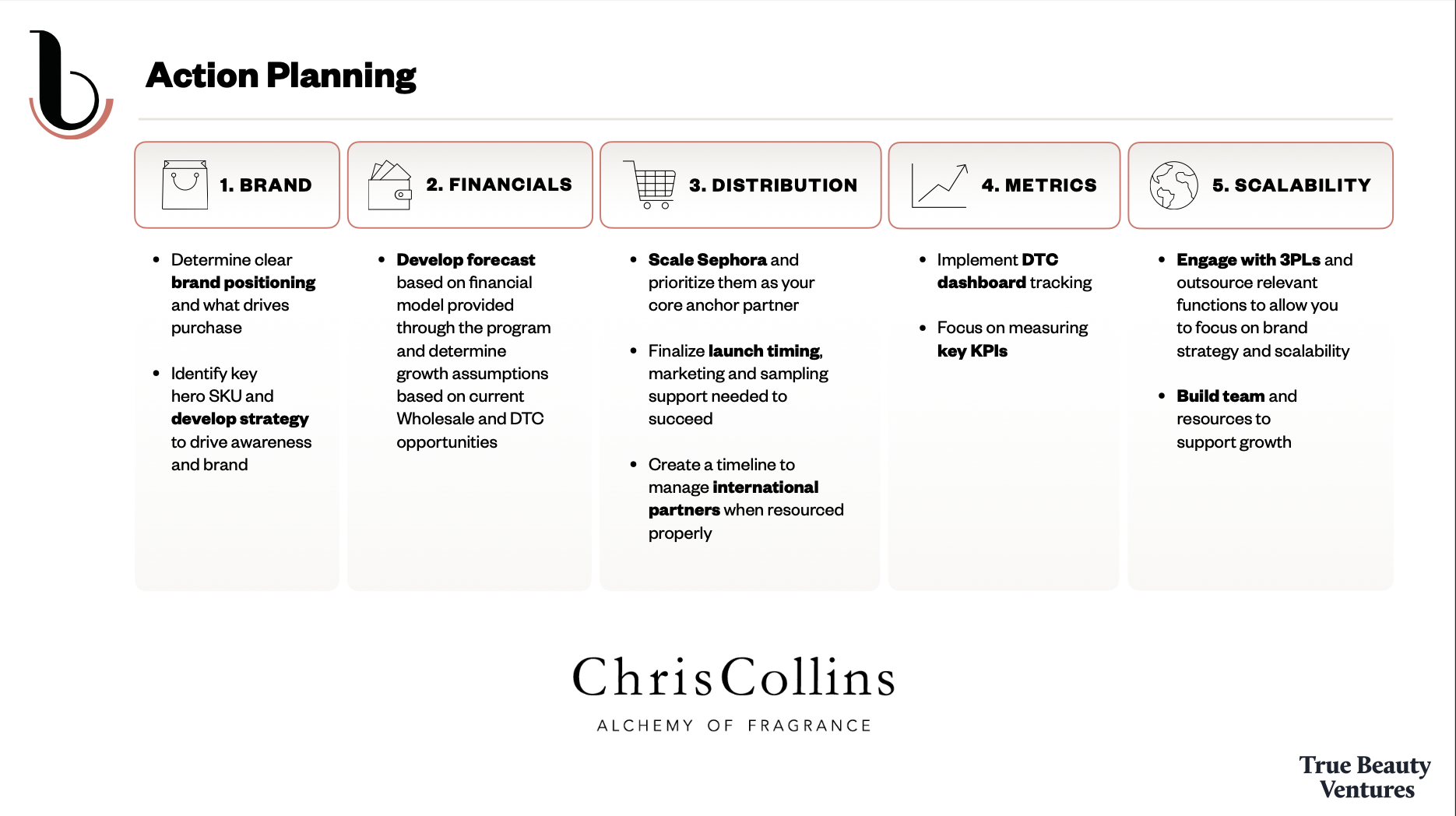 World of Chris Collins has nabbed top-tier retail partners such as Bergdorf Goodman, Neiman Marcus, Nordstrom, Saks Fifth Avenue and Sephora, and Collins says it's having a "really hot moment right now." He says his issue is that he has to learn how to say no or at least not yet in order to make the partnerships the brand has in place successful. It only has two full-time employees and can't do everything. 
"It's important to concentrate on your core retailers, the ones that can literally scale your brand the strongest. That was very eye-opening for me going through this program," said Collins. "I made the mistake or my idea was not correct in thinking that the more places where your brand is available, the more legitimacy it gives your brand."
A similar principle applies to products. The niche fragrance category is fueled by newness, noted Collins, which puts pressure on brands to churn out launches. He said, "I learned that you have to balance being niche and launching newness, but also concentrate on your brand positioning and your key SKUs."
World of Chris Collins is beginning to figure out how to build its team. "There [are] so many hires that you can make, but which is the key one that needs to happen right now?" said Collins. After conversations with Gersten and Nunez, he started making moves to hire a head of sales for his fast-growing brand.
 NATURE OF THINGS
Year Launched: 2019

Category: Bath, Body and Personal Care

Positioning: Purposeful and ritualistic wellness-minded beauty line formulated to be gentle yet effective for all skin types, genders and ages.

Price Range: $22 – $99

Hero Product: Fortifying Magnesium Soak and Restorative Floral Bath

Current Distribution: Beauty Heroes, Blue Mercury, Detox Market, Harvey Nichols, Liberty, Net-a-Porter, Niche Beauty, Revolve and Shen Beauty.
Nature of Things co-founders Collett and Pelayo came into the Bridge Mentorship Program seeking trusted advisors to guide their brand on distribution strategy and metrics. Collett said, "What was really eye-opening was getting to know what capital partners, VCs and investors are really looking for once you get past a brand's beautiful veneer."
Prior to being part of the program, Collett and Pelayo struggled with pinning down when to time Nature of Things's retail ramp-up. "When does the brand have permission to go sit down with a Sephora or a big-box retailer?" said Collett. "It became clear through the program that we needed to focus on the different channels of distribution and what we were trying to get out of our current retail partnerships. We found that it's both driving sales and awareness, but also still very much focused on driving brands."
Nature Of Things has undergone a series of pivots since it launched in 2019. It removed CBD from core formulations after confronting pushback from select retailers and lowered prices as its distribution network widened. Additionally, it's leaned into aluminum packaging versus the higher cost glass and wood packaging it began with.
Through the course of the program, Collett and Pelayo realized potential investors need time to fully understand Nature of Things' brand metrics in light of the changes the brand has implemented. Collett said, "They need a little bit of a longer runway to showcase what's working, what's not and where we truly see opportunities for growth." 
The Bridge Mentorship program helped Nature of Things create a feasible timeline for future growth. Collett said, "The biggest lesson for us was where we are in our own lifecycle and what that means for the next six to nine months of what we're going to be doing as a brand."
PLANTKOS
Year Launched: 2021

Category: Skincare

Positioning: A pharmacist developed and clinically proven skincare line that blends western ingredients with Ayurvedic herbs for skin.

Price Range: $37 – $73

Hero Product: Phyto Replenishing Essence and Phyto Triple C Serum

Current Distribution: Bergdorf Goodman, Bluemercury, The Detox Market, Goop, NakedPoppy, Neiman Marcus and Thirteen Lune.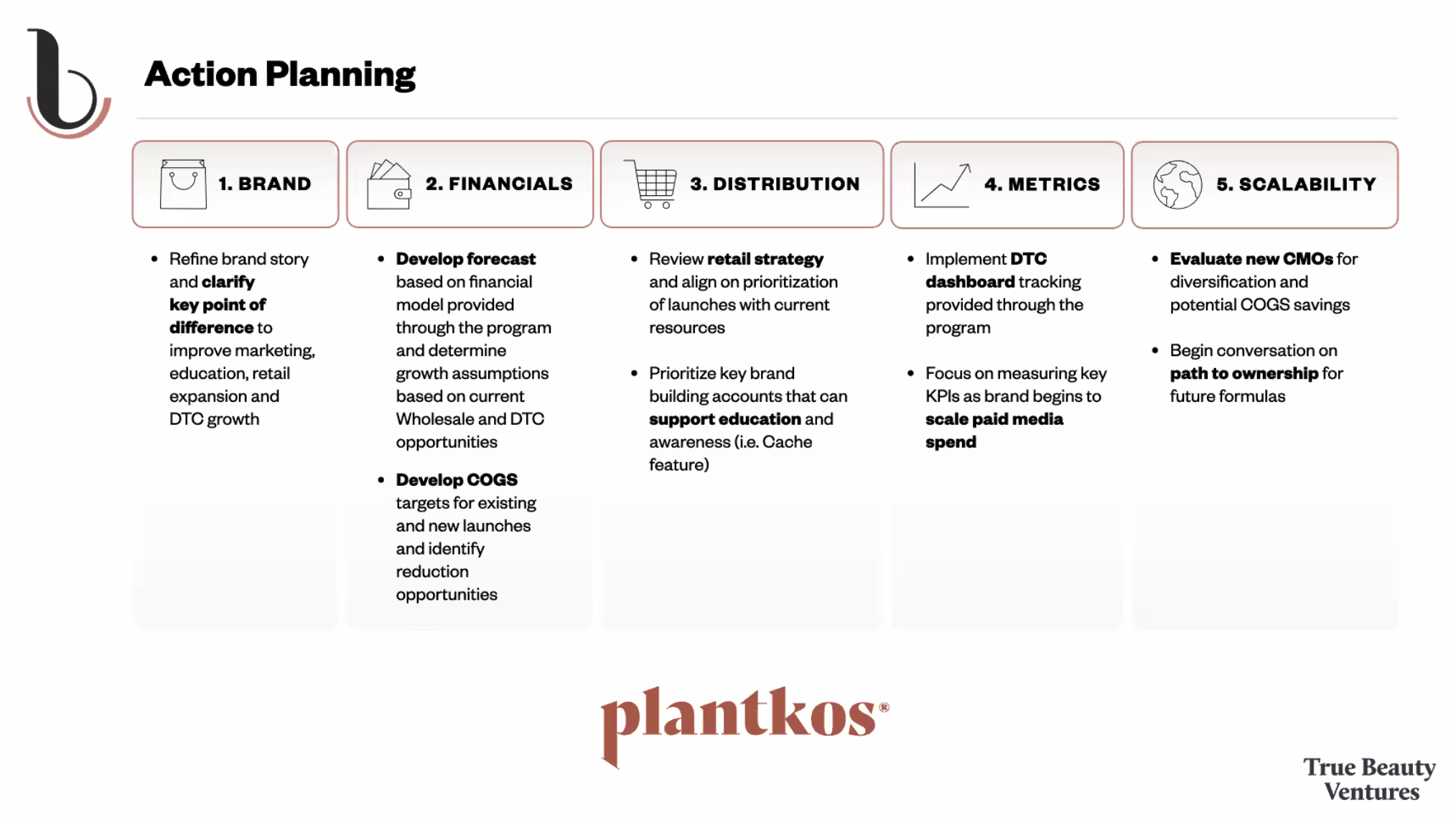 Plantkos co-founders and married couple Sejal and Ketul Patel plan to reframe their brand's story around the power of science. "That's our focus for 2023," said Sejal. "How we can clarify our key points of [science-first] difference…and make that turn into growth within our direct-to-consumer channel as well as with our retail partners?"
Sejal and Katul shared that the Bridge Mentorship program's financial coaching was extremely valuable because it put Plantkos's cost of goods into sharp perspective. The brand is considering switching contract manufacturers to bring down costs. 
The program underscored the dangers of an overly broad distribution strategy. Sejal said, "As we grow, we will evaluate our retail strategy to make sure that we're growing within the right partners and not expanding our partnerships too fast." 
Plantkos has been pursuing a path of narrow, but productive distribution. In October, the brand launched at a limited number of Bluemercury doors. The relatively small footprint has enabled Plantkos to effectively convey its brand story and educate a new pool of customers.
Sejal said, "That's going to help us not just to scale, but also understand what it will take for us to provide educational support as we grow deeper with bigger retailers."