Sexual Wellness Brand Cake Raises $8M In Series A Funding
Cake has closed an $8 million series A round, bringing its total funding to over $16 million.
Launched in June 2020, the sexual wellness brand previously raised $1.4 million in pre-seed funding to get off the ground, followed by a $4 million seed round in 2021 and a $2.5 million bridge round earlier this year. The latest round was led by existing investor Silas Ventures, a participant in Cake's seed round. Other existing investors involved in the round include Lerer Hippeau, Bullish, Selva Ventures and Finn Capital Partners.
"We're fortunate enough to have all of our current investors doubling down," says Cake co-founder and CMO Mitch Orkis. "We wound up doing the round rather quickly all with insiders because they've seen the trajectory of how fast things have gone." 
For Silas Capital, the deal was significant, as the first for its new growth fund. "We had to be particularly confident in Cake's potential for success," shares Brian Thorne, principal at Silas Capital. "There was significant interest from later-stage consumer funds to lead this round, which provided further validation for Cake and the category as a whole."
When deploying capital in the uncertain economic climate, Thorne notes that it made sense to zero in on a management team he already knew and trusted. "We've developed a strong relationship with Hunter [Morris, co-founder and CEO of Cake,] and Mitch, and have been impressed with their proven ability to execute against plan. Additionally, we feel that sexual wellness is a category that should fare well regardless of any prolonged economic slowdown."
Born in direct-to-consumer distribution, Cake's prior funding was put toward rapid retail expansion. Its seed round supported a rollout to 4,000 Walmart stores, and this year's bridge round went to the brand's Target launch. The series A capital infusion is no different. Cake has entered CVS online and in stores with four of its products, including bestselling lubricants Tush Cush and So-Low Lotion, both priced at $18. The pharmacy chain also picked up toys from the brand, including its $20 Stroker penis massager.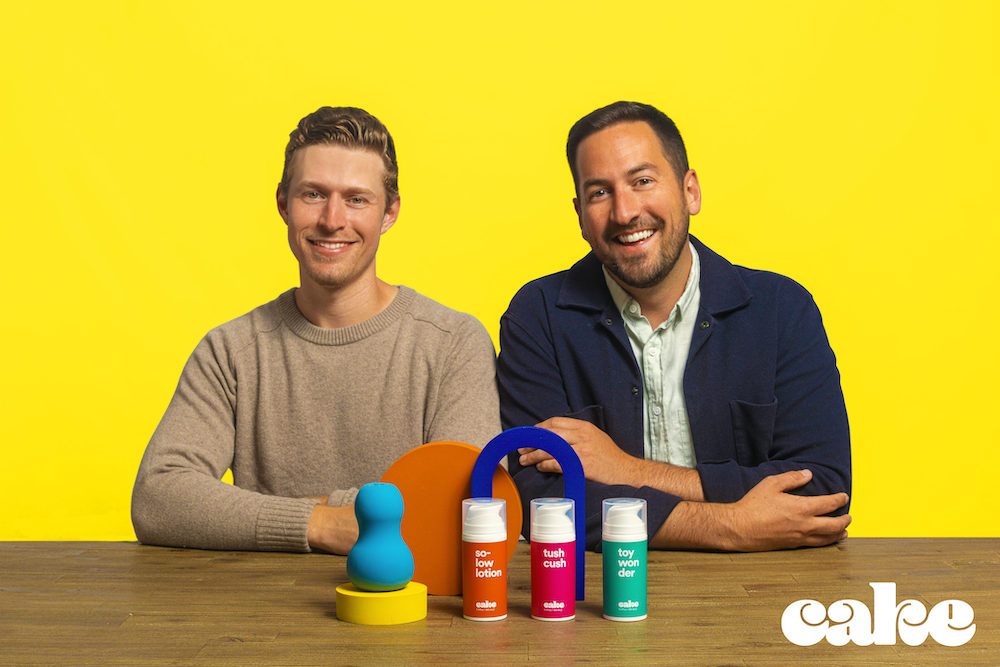 Walmart is tripling down on its commitment to Cake by expanding the selection of its products from four to 11 items. Target carries five of the brand's products. Overall, Cake sells 30-plus products priced from about $12 to $50. The brand says its approachable positioning and broad assortment of clean personal care offerings are resonating with a wide swath of consumers spanning individuals, straight couples and LGBTQIA+ couples. By the end of the year, it's due to be available at over 13,000 points of sale. 
"There definitely is a leaning into retail," says Orkis. "Putting the best quality products that are affordable within arm's reach of everyone in the United States is important to us. People in the United States oftentimes have mismatched sex drives with their partners. We can help get those individuals by giving them tools, education and products."
"As we expand everywhere, inventory is such a huge conversation now, keeping up with demand, planning further ahead, planning innovative product launches," says Morris. "We're focused on bringing our products right to where people are buying them, which is often in large retailers." 
Cake is building out its executive bench as it bolsters its retail presence. Fadi Mourad, formerly the chief innovation officer at Dollar Shave Club, joins the brand as SVP of product innovation, and Christina Komen, formerly director of sales SmartyPants Vitamins, has been appointed Cake's VP of retail sales. Notably, Komen and Mourad were at SmartyPants and Dollar Shave Club, respectively, when Unilever purchased the companies.
As the number of sexual wellness brands accumulating funding increases—last week, Dame announced a $7 million series A—paths to exit in the category are beginning to crystalize. Leading sexual wellness brands like Cake, Dame and Maude are laying the groundwork today for advantageous acquisitions in the not-so-distant future. 
"It has changed substantially in the past year," Orkis says of the sexual wellness investment landscape. "All of the brands are plowing the way, then the VCs are following the brands and supporting them, and now private equity is following the VCs and supporting them, and the strategic acquisitions are going to come after that, that feels clear. It seems like there's a lot of different avenues, which we're excited by. Right now, we're focused on growing a great business, and then strategic opportunities will come knocking as we continue to grow."