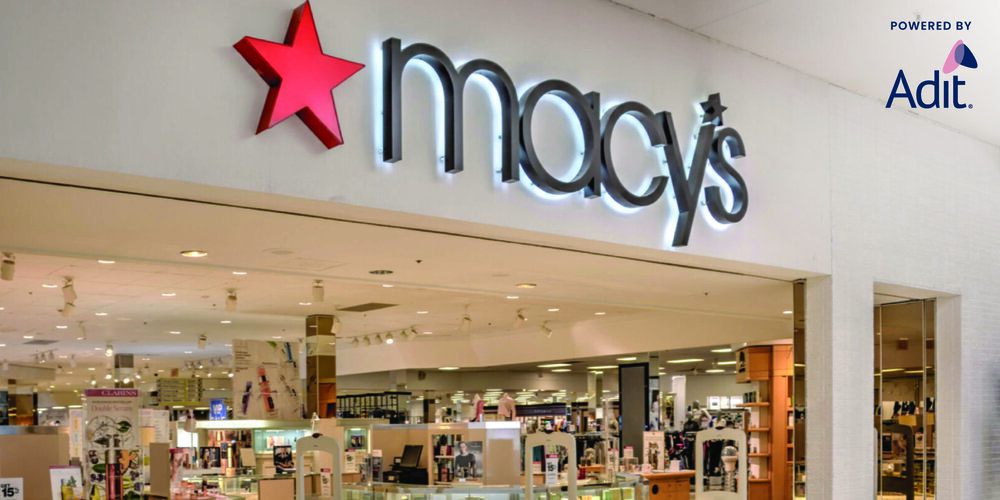 Holiday Sales Predictions, Department Store Stumbles, And Barneys New York's (Kinda) Return: A Look At September 2022's Big Retail News
As the fourth quarter of the year commences, economic volatility is asserting pressure on the retail sector.
As a result, Amazon and Target are starting holiday sales early to help consumers spread out purchases. Walmart is securing its supply chain and promising deeper savings in important categories like toys. How the holiday shopping season will go remains an open question, with predictions of the impact of inflation on spending varying almost as widely as predictions about the recession.
Glancing back at the recent past, department stores commanded headlines in September—and primarily not in a positive way. Some key players unveiled new offerings and expanded partnerships, while others were under siege from activist investors and shareholders. Below, we summarize recent retail news.
RECESSION PREDICTIONS
Although the inflation rate dipped for the third consecutive month—August's rate clocked in at 8.3%, down from 8.5% and 9.1% in July and June, respectively—the Federal Reserve raised interest rates by .75 percentage points for the third time in a row. The central bank anticipates enacting further rate hikes until the inflation rate hits 2% or below. 
With no short-term relief in sight, fears of a recession seem to be deepening. According to a September CNBC survey of economists and strategists, the experts predict there's a 52% chance that the United States will fall into a recession within the next year. A majority of Americans think the country is already engulfed in a recession. 
The economic rockiness hasn't stopped consumers from spending. Retail sales at stores, restaurants and online rose .3% in August from the prior month, according to the U.S. Census Bureau. Retail sales aren't adjusted for inflation.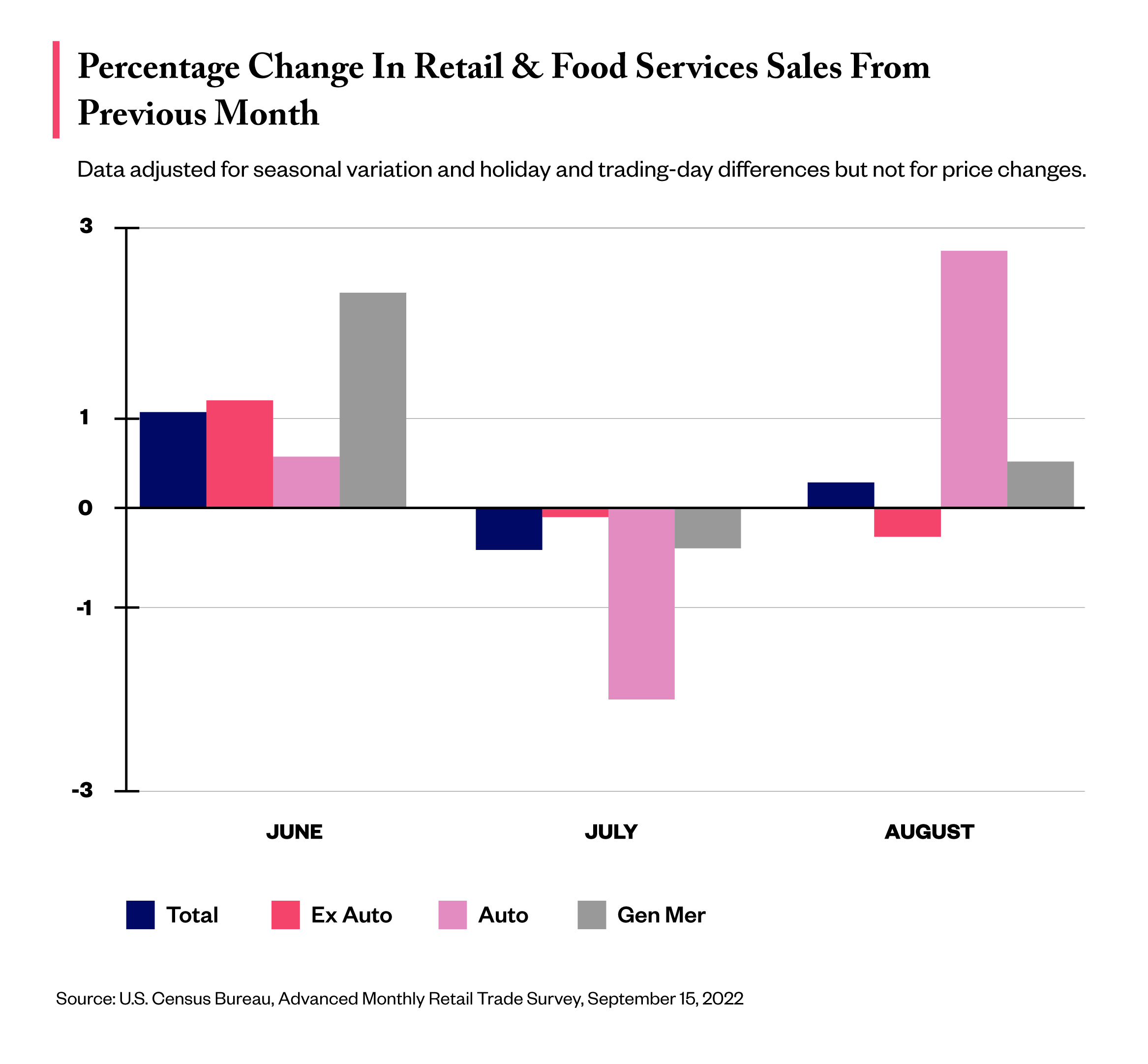 Spending at gas stations dropped considerably, by 4.2%, as gas prices descended from their mid-June high. By contrast, car dealership sales increased by 3%. Bars and restaurants saw a 1.1% jump. Department stores, apparel stores and sporting goods stores reported higher spending in August as well. Online spending, which jumped in July, declined slightly by .7%. 
Following a strong July, another 315,000 jobs were added to the U.S. labor market in August. Overall, 1.1 million jobs were added over the past three months. However, as more Americans entered the labor force in August, wage growth slowed. The national unemployment rate also rose to 3.7% from 3.5% in the prior month.
​​HOLIDAY SPENDING 
In September, Deloitte and Mastercard issued dueling predictions of how holiday sales will fare during a period of deep economic uncertainty. Deloitte forecasts holiday sales growth will slow significantly. Specifically, it estimates holiday sales will be up between 4% and 6% to reach $1.45 to $1.47 trillion. Last year, holiday sales advanced 15.1%.
E-commerce predictions are more upbeat. Deloitte reasons rising prices could propel consumers to seek online deals, and online sales are expected to escalate between 12.8% and 14.3% to reach $260 billion to $264 billion. In 2021, e-commerce holiday sales increased by 8.4%.
In its SpendingPulse report, Mastercard predicts holiday sales will jump 7.1%, encompassing an e-commerce sales bump of 4.2% and a brick-and-mortar sales spike of 7.9%. Compared to pre-pandemic levels, total retail sales, excluding auto sales, from Nov, 1 to Dec, 31 are forecast to climb 18.8%.
DEPARTMENT STORE STRUGGLES
After announcing plans to expand its shop-in-shop partnership with Sephora last month, Kohl's troubles deepened. Following three consecutive quarters of declining sales guidance, hedge fund Ancora Holdings Group wants CEO Michelle Gass and chair Peter Boneparth out. Ancora holds a 2.5% stake in the department store chain.
Ancora has long been vocal about management change at Kohl's. In 2021, the hedge fund was part of a group of activist investors that pushed the department store chain to shake up its board after it reportedly failed to consider takeover bids. In response, Kohl's adopted a shareholder rights plan or so-called "poison pill" in January to stave off a potential hostile takeover. In the summer, it walked away from a takeover bid from The Vitamin Shoppe owner Franchise Group, and its management has been under fire ever since.
Against Ancora's wishes, Kohl's' board is backing Gass and Boneparth. In an emailed statement to Retail Dive, Kohl's stated that its board "unanimously supports Michelle Gass and her leadership team." It continued, "We remain committed to maximizing value and acting in the interests of all our shareholders by staying focused on running the business, and the Board continues to actively engage with management to navigate the current retail environment."
Nordstrom is girding itself against what it believes may be a hostile takeover. Similar to Kohl's, it adopted a "poison pill" measure in September after the Mexican department store chain Liverpool acquired a 9.9% stake in the department store company. Liverpool is now its second largest shareholder. The Nordstrom family is the largest shareholder.
Despite a second quarter boost from its famed anniversary sale, Nordstrom slashed its full-year sales guidance as it faces costly inventory surpluses and weakening customer demand at its off-price retail banner Nordstrom Rack.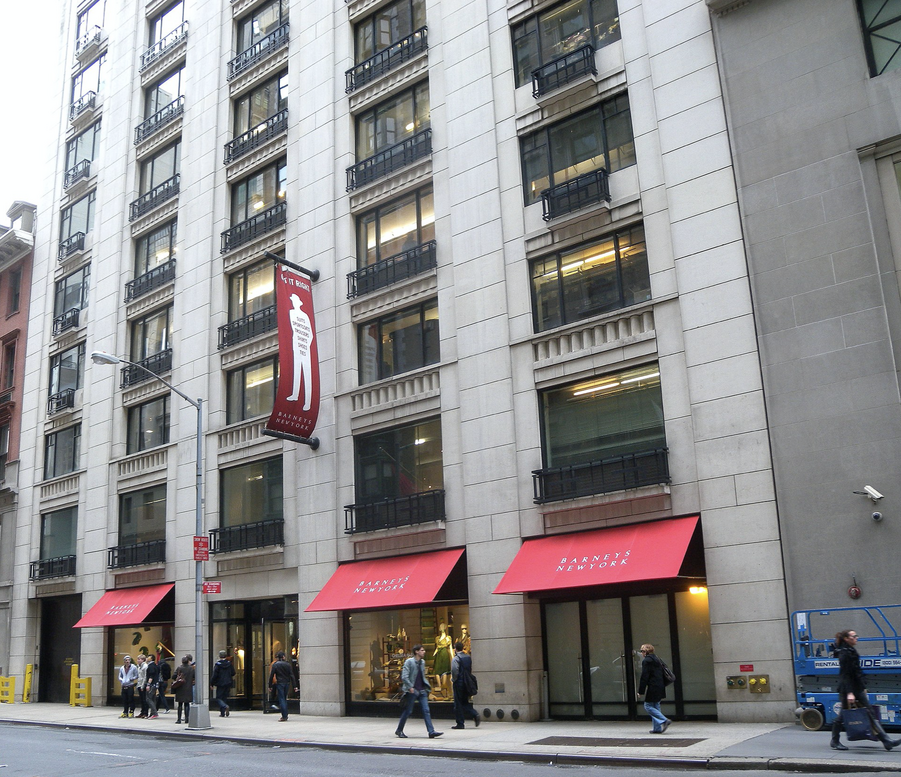 DEPARTMENT STORE BEAUTY MOVES
After launching an in-store retail concept from Clinique in the summer, Macy's made further beauty moves in September when it announced that Kylie Cosmetics would join its assortment. The brand's rollout is occurring in three phases. On Oct. 1, a limited-edition holiday collection became available online and in select Macy's stores. Core products from the line are set to follow in the winter, and the full assortment is scheduled to go live online and be in stores by the spring of 2023.
Macy's isn't the first American department store to strike a deal with Kylie Cosmetics. The brand debuted at Nordstrom in 2020. It's entering Macy's as the department store company is making digital inroads. According to a July report from the data management and analytics firm 1010data, Macy's has gained significant market share in e-commerce beauty sales in the past year as it's nurtured its fragrance, hair appliance and sun care offerings online. 
J.C. Penney is expanding its J.C. Penney Beauty concept in a big way. The department store chain began piloting an inclusivity-focused assortment online and in select stores last year. Currently in 10 pilot locations, J.C. Penney Beauty will expand to 300 locations by early 2023 and 600 stores by the spring of that year. 
Thirteen Lune constitutes about 20% of J.C. Penney's beauty selection. The e-tailer is part of the beauty department that's emerged since J.C. Penney's multiyear partnership with Sephora ended in 2020. About 100 brands, 60% of which are BIPOC- or female-founded, have been introduced through J.C. Penney Beauty since the arrival of the reformatted beauty selection. Dozens more are reportedly to come. 
After filing for bankruptcy and closing its stores in 2020, Barneys New York has been revived as a beauty brand. The beauty brand represents the first time the Barneys New York name has been used on a new product or business since Authentic Brands Group purchased the luxury department store's intellectual property in 2019. 
The initial launch concentrates on skincare and features an essence, cleanser, serum, day cream and night cream. Future line extensions will include personal care and wellness products like lip balms, hand creams, candles, body care and even bottled water. The brand will be available on Saks Fifth Avenue's website along with its own. 
ADDITIONAL NEWS